The contribution of a country's human capital, both through governmental agencies and private corporations, cannot be understated. Hence, in every passing year, more money is pumped into ensuring the development of its people are being taken care of. As a result, the corporate learning and development (L&D) industry has seen substantial growth over the years. A report in Cision PR Newswire indicated that the global training market for 2018 is worth a cumulative USD 367.6 billion. Another separate report by Allied Market Research estimates that the market would reach USD 417.2 billion by 2027.
Despite the staggering numbers, people development still could not be considered as a revolutionary industry. In fact, it is undergoing a rather slow evolution. One of the most common methodology of people up-skilling is still the instructor-led training. In this training, instructors, also known as the trainer, facilitator, or consultant, will impart knowledge to the learners during the session. This technique has been a part and parcel of adult education. A training session can be anywhere between a couple of hours up to a week of learning boot camp.
However, the tried-and-tested instructor-led trainings have hit some major obstacles in the last decade. As technologies are becoming more influential in human lives, our physiology also alters slightly. The average attention span of human beings has decreased over the years, as demonstrated by a recent research by Nature Communications journal. This seems to corroborate common complaints that even half a day of instructor-led trainings can be "excessive" and "dry". 
As we uncover more learning styles, many claimed that modern-day L&D must undergo some drastic change to still retain its importance in knowledge building. The advancement of technology also brought in some self-learning digital learning methodologies in the forms of e-Learning, Learning Management Systems (LMS) or even more recently, Learning Experience Platforms (LXP). However, the question remains of whether it is supposed to be a "tweak" or a "complete overhaul"?
In truth, this question cannot be answered simply without looking at the main purposes of learning, which are the understanding of content and context; and ultimately the retention of learning itself. In terms of purely content, the advent of information technology means that there is excessive amount of information available for consumption online. It is believed that Google processed close to 70,000 searches per second. With one simple search, there are thousands or even, millions of results that might be giving you content that you might be looking for. 
There are digital learning tools, coupled with machine learning algorithms, that will ensure closer fitting results to your patterns of searches. This just-in-time nature makes it very convenient for information consumption. This is a factor that an instructor cannot add meaningful value in.
Whilst instructors also provide numerous information in their training sessions, they are not able to be there whenever a learner want them to. However, what instructors can compensate are the situational awareness of learning, or context, that they are able to bring to the table. Most instructors have plethora of experiences. They are subject matters experts whether within the company or within a given industry. They can add "meaning" into the theoretical content they are providing. The incorporation of intangible learning subtleties such as jargons and examples help learners understand the applicability of the content learned.
The end goal of learning and development is the learning retention for the learner. Learning retention allows learners to capitalize on the knowledge (content) in the right situation (context) at the right time when needed. However, learning retention remains quite low in learning, including in instructor-led trainings. Learning retention is often the transference of knowledge from the short-term memory to long-term memory. 
This often is imparted through a process called active learning, where the learners are the focal point of the experience. This is unfortunately absent in some instructor-led sessions, as the instructors are most often the focal point of the experience.
All the above indicates that there is still very much a place in the L&D industry for instructor-led training, especially for their context-setting value. However, instructors need to allow for some "tweaks" in their information dispersion to increase learning retention. This includes some modification of techniques and tools used in training to make the learning fun, engaging and fresh in order to enable active learning. 
All these would lead to a better memory of the session, and thus retention of learning in it. While some instructors are aware and are constantly upgrading their repertoire of techniques and tools, however, some are still insistent of the unadulterated methodology.
As the industry experiences more evolution or COVID19-related revolution, we can expect more changes in global and local learning preferences and trends. Hence, this topic would need to be revisited from time to time to ensure its relevancy.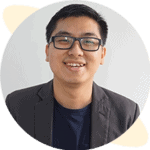 TZEN HONG CHIK (JAYSON) – COO of eVULX | 5 MINS READ